Software - FibreJet - Managing
FibreJet — 7 patents later, and a decade of SAN expertise come to bear to make things work together. Keeping it elegantly simple and making things work together.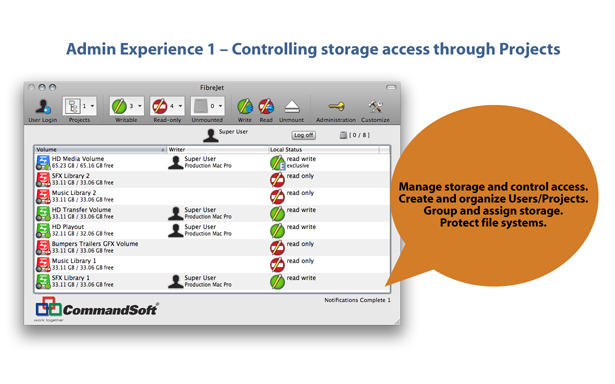 SANs have been designed to have tremendous storage capacity.
Multiple terabytes of storage and very often many users all needing to work together, it can become overwhelming. Organization is key to effective project management, and FibreJet provides the built-in tools necessary for the job. The FibreJet UI can be an asset for project management; keeping the job simple and effective. Since FibreJet uses standard disk utilities and file systems, working on the latest operating systems all using native operating file formats there is nothing new to learn for the administrator setting up the storage. The outcome is good planning facilitated by FibreJet.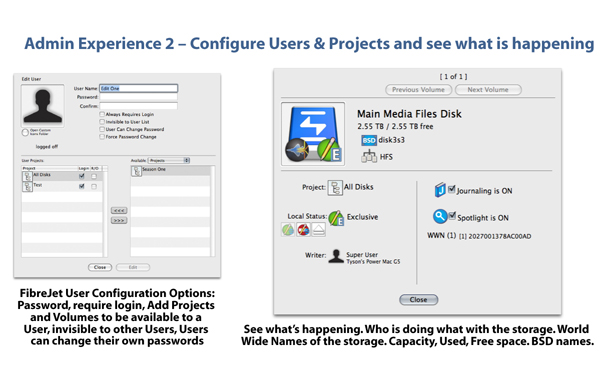 Project Management means managing the Information Lifecycle

Illustrated here are just some of the options available when creating a new project. Projects are groups of storage with certain access rights. File systems may belong to multiple projects. The simplest use of projects is to create one for each user. Larger SANs utilize projects to manage the incoming, present, and outgoing projects for multiple workgroups of users. FibreJet lets the administrator see, at any time, who is using the storage for what. FibreJet's administrative features are accessible from any workstation on the SAN making project management work from wherever you need to work. FibreJet can be controlled via Apple Remote Desktop and also accessed remotely via command line interface. FibreJet allows you to define your workflow so that you can get the best out of your work efficiencies and assets. FibreJet® - Keep it simple, sharing and working together.